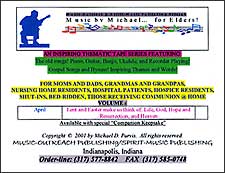 Music Outreach Thematic Recordings are a new, unique alternative to expensive live performances! They Combine the personal style of a live performance with the portability and thrift of a recording. Your residents will want to see and hear these recordings again and again!!! Michael plays a variety of instruments, and his excellent singing. Warm personal style and uplifting content make these recordings a sure success!
Volume 12
For December
Theme
"Christmas and Hanukah

.

"
Original poems by poet Michael D. Purvis, the story of Hanukah, the Christmas story in scripture, Santa, sacred and secular Christmas songs. A holiday program you won't want to miss!
Available Now in Downloadable Book Format
Contents/Song List

We're Singing the Old Songs Like It's Saturday Night
And Suppose I Told You
(Original Poem)
O Come, All Ye Faithful
The Story of Hannukka
(Original Narration)
Mo Oz Tsur (Rock of Ages)
Into the World With Fire
(Original Poem)
Good King Wenceslas Looked Out
Deck the Halls
Jingle Bells
Auld Lange Syne
The First Noel
We Three Kings
Silent Night
Guess the Titles of
Four Songs:
Hark the Herald Angels Sing
What Child Is This?
I Saw Three Ships
Joy to the World

Long, Long Ago
Beautiful Dreamer
The Yankee Doodle Boy
Amazing Grace
He's the Lily of the Valley
Fairest Lord Jesus
Shall We Gather at the River?
In the Garden
The Lord's Prayer
Closing Prayer (by Michael D. Purvis)
Closing Song Medley:
Till We Meet Again
Goodnight Ladies
Smiles
Closing Song:
We're Singing the Old Songs Like It's Saturday Night
Also be sure to order the special "Companion Keepsake"