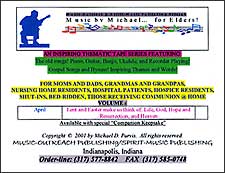 Music Outreach Thematic Recordings are a new, unique alternative to expensive live performances! They Combine the personal style of a live performance with the portability and thrift of a recording. Your residents will want to see and hear these recordings again and again!!! Michael plays a variety of instruments, and his excellent singing. Warm personal style and uplifting content make these recordings a sure success!
Volume 9
For September
Theme
"Peace

.

"
Peace is God's gift to us. It's what we all seek.
Available Now in Downloadable Book Format
Contents/Song List

We're Singing the Old Songs Like It's Saturday Night
Meet Me Tonight in Dreamland
He's the Lily of the Valley
In the Garden
(Original Poem)
In the Garden
Beautiful Dreamer
Santa Lucia
Abide With Me
Ain't We Got Fun?
Avalon
Pack Up Your Troubles In Your Old Kit Bag
Ah! Sweet Mystery of Life
Darktown Strutter's Ball
You Beautiful Doll
Toot, Toot, Tootsie

Home Sweet Home
Green Sleeves
The Star Spangled Banner
Amazing Grace
Wade in the Water
Love Divine, All Loves Excelling
Nearer My God to Thee
In the Garden
Closing Song Medley:
Till We Meet Again
Goodnight Ladies
Smiles
Closing Song:
We're Singing the Old Songs Like It's Saturday Night
Also be sure to order the special "Companion Keepsake"