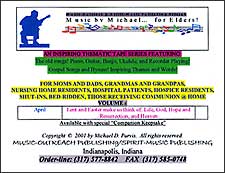 Music Outreach Thematic Recordings are a new, unique alternative to expensive live performances! They Combine the personal style of a live performance with the portability and thrift of a recording. Your residents will want to see and hear these recordings again and again!!! Michael plays a variety of instruments, and his excellent singing. Warm personal style and uplifting content make these recordings a sure success!
Volume 8
For August
Theme
"Sun, Moon and Stars

- Morning and Evening

.

"
These elements of nature mark time for us, and make for a beautiful world.
Available Now in Downloadable Book Format
Contents/Song List

We're Singing the Old Songs Like It's Saturday Night
All Things Bright and Beautiful
Sun
(Original Poem)
Good Morning, Mr. Sun
(Original Poem)
I'm Always Chasing Rainbows
Oh Moon...
(Original Poem)
Shine On, Harvest Moon
Speak, Little Star
(Original Poem)
Twinkle, Twinkle Little Star
Now I Lay Me Down to Sleep
M-O-T-H-E-R (A Word That Means the World to Me)
After You've Gone
I Love a Piano
Take Me Out to the Ball Game
Guess The Titles of
Four Songs
Mary's A Grand Old Name
Down By the Old Mill Stream
Harrigan
Carolina in the Morning

Polly Wolly Doodle
Old Folks at Home
When Johnny Comes Marching Home Again
Amazing Grace
Go Down Moses
All Hail the Power of Jesus' Name
Abide With Me
In the Garden
The Lord's Prayer
Closing Prayer (by Michael D. Purvis)
Closing Song Medley:
Till We Meet Again
Goodnight Ladies
Smiles
Closing Song:
We're Singing the Old Songs Like It's Saturday Night
Also be sure to order the special "Companion Keepsake"