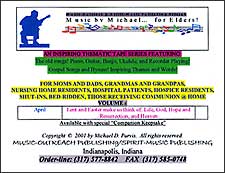 Music Outreach Thematic Recordings are a new, unique alternative to expensive live performances! They Combine the personal style of a live performance with the portability and thrift of a recording. Your residents will want to see and hear these recordings again and again!!! Michael plays a variety of instruments, and his excellent singing. Warm personal style and uplifting content make these recordings a sure success!
Volume 6
For June
Theme
"Humor, Happiness and Fathers

.

"
A fun and meaningful program for Dads, Grandpas and those who love them.
Available Now in Downloadable Book Format
Contents/Song List

We're Singing the Old Songs Like It's Saturday Night
Smiles
Scripture: Proverbs: 17:22
For Me and My Gal
Original Poem by Michael
Lift Every Voice and Sing
The Battle Hymn of the Republic
Nearer My God to Thee
Hello My Baby
You Made Me Love You
Josephine in My Flying Machine
Baby, Won't You Please Come Home

Guess The Titles of
Three Songs
Under the Bamboo Tree
Whispering
One of These Days
She'll Be Comin' Round the Mountain
Little Brown Jig
The Yankee Doodle Boy
Amazing Grace
Steal Away
All Things Bright and Beautiful
He Leadeth Me
In the Garden
The Lord's Prayer
Closing Prayer (by Michael D. Purvis)
Closing Song Medley:
Till We Meet Again
Goodnight Ladies
Smiles
Also be sure to order the special "Companion Keepsake"