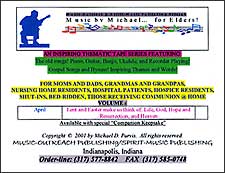 Music Outreach Thematic Recordings are a new, unique alternative to expensive live performances! They Combine the personal style of a live performance with the portability and thrift of a recording. Your residents will want to see and hear these recordings again and again!!! Michael plays a variety of instruments, and his excellent singing. Warm personal style and uplifting content make these recordings a sure success!
Volume 5
For May
Theme
"Music and Mothers."
Everybody loves Moms & Grandmas!
Available Now in Downloadable Book Format

Contents/Song List

We're Singing the Old Songs Like It's Saturday Night
Musical Alphabet
Mary Had a Little Lamb
Music
(Original Poem)
M-O-T-H-E-R, A Word That Means the World to Me
Rural Madonna
(Original Poem)
Sometime I Fell Like a Motherless Child
Ave Maria
Ja-Da
Alexander's Ragtime Band
Let Me Call You Sweetheart
Smiles
Guess the Titles of
Four Songs:
If You Were the Only Girl in the World
The Bells of St. Mary's
Ciribiriloin
Ballin' the Jack

Wink to Me Only With Thin Eyes
Aloha Oe
America (My Country 'Tis of Thee)
Amazing Grace
Wade in the Water
Love Divine, All Loves Excelling
My Faith Looks Up to Thee
In the Garden
The Lord's Prayer
Closing Prayer (by Michael D. Purvis)
Closing Song Medley:
Till We Meet Again
Goodnight Ladies
Smiles
Also be sure to order the special "Companion Keepsake"