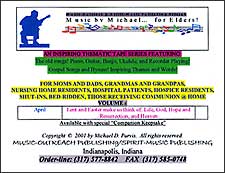 Music Outreach Thematic Recordings are a new, unique alternative to expensive live performances! They Combine the personal style of a live performance with the portability and thrift of a recording. Your residents will want to see and hear these recordings again and again!!! Michael plays a variety of instruments, and his excellent singing. Warm personal style and uplifting content make these recordings a sure success!
Volume 4
For April
Theme
"Lent and Easter make us think of: Life, God, Hope and Resurrection, and Heaven

.

"
A special and meaningful program for this beautiful and hopeful time of the year.
Available Now in Downloadable Book Format
Contents/Song List

We're Singing the Old Songs Like It's Saturday Night
Hope is Such a Funny Thing
Fairest Lord Jesus
Scripture: Mark 12:28-34
Lift Every Voice and Sing
Scripture: St. Matthew 26:26-29
Jesus, The Very Thought of Thee
Scripture: Luke 22:37-48
In the Garden
Scripture: Mark Ch.16
Christ the Lord is Risen Today
Ballin the Jack
Ciribirilion
The Bells of St. Mary's
If You Were the Only Girl in the World

Guess the Titles of
Four Songs:
Toot, Toot, Tootsie
Glow Worm
Give My Regards to Broadway
I'm Just Wild About Harry
Bill Bailey
Clementine
Over There
Amazing Grace
He's the Lily of the Valley
Fairest Lord Jesus
Shall We Gather at the River
In the Garden
The Lord's Prayer
Closing Prayer (by Michael D. Purvis)
Closing Song Medley:
Till We Meet Again
Goodnight Ladies
Smiles
Also be sure to order the special "Companion Keepsake"