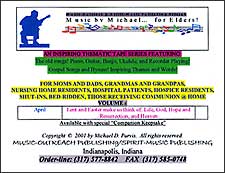 Music Outreach Thematic Recordings are a new, unique alternative to expensive live performances! They Combine the personal style of a live performance with the portability and thrift of a recording. Your residents will want to see and hear these recordings again and again!!! Michael plays a variety of instruments, and his excellent singing. Warm personal style and uplifting content make these recordings a sure success!
Volume 3
For March
Theme
"St. Patrick, St. Joseph, Spring is sprung!"
Special Irish songs and poems and general springtime merriment

.
Available Now in Downloadable Book Format
Contents/Song List

We're Singing the Old Songs Like It's Saturday Night
Take Me Out to the Ball Game
Peace Appears
Tulip Time
In the Garden
And Spring Will Come
Old Oaken Bucket
We Thank You St. Joseph
Harrigan
Mary's a Grand Old Name
The Wearing of the Green
Ode to a Leprechaun
Some of These Days
Glow Worm
Under the Bamboo Tree
Baby Won't You Please Come Home

Guess the Title of
Four Songs:
You Made Me Love You
I'm Just Wild About Harry
Ah! Sweet Mystery of Life
The Darktown Strutter's Ball
Home on the Range
Clementine
The Star Spangled Banner
Amazing Grace
Wade in the Water
Love Divine, All Loves Excelling
Rock of Ages
The Lord's Prayer
Closing Prayer (by Michael D. Purvis)
Closing Song Medley:
Till We Meet Again
Goodnight Ladies
Smiles
Also be sure to order the special "Companion Keepsake"