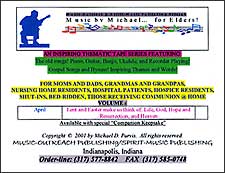 Music Outreach Thematic Recordings are a new, unique alternative to expensive live performances! They Combine the personal style of a live performance with the portability and thrift of a recording. Your residents will want to see and hear these recordings again and again!!! Michael plays a variety of instruments, and his excellent singing. Warm personal style and uplifting content make these recordings a sure success!
Volume 1
For January
Theme
"Time"
We think about time and our journey through life as our new year begins.
Available Now in Downloadable Book Format

Contents/Song List

We're Singing the Old Songs Like It's Saturday Night
School Days
Quotation by Seneca
Song of Paper Mirrors
(Original Poem)
Long, Long Ago
Avalon
Meet Me Tonight in Dreamland
First Night of Winter
(Poem)
Pack Up Your Troubles
Smiles
Alexanders Ragtime Band
After You've Gone
Come Josephine in My Flying Machine
For Me & My Gal

Guess The Titles of Four Songs:
Give My Regards to Broadway
Hello, My Baby
Carolina in the Morning
Down By the Old Mill Stream
She'll Be Comin' Round the Mountain
The Yellow Rose of Texas
America
Amazing Grace
Nobody Knows the Trouble I've Seen
Fairest Lord Jesus
My Faith Looks Up to Thee
In the Garden
The Lord's Prayer
Closing Prayer (by Michael D. Purvis)
Closing Song Medley:
Till We Meet Again
Goodnight Ladies
Smiles
Also be sure to order the special "Companion Keepsake"