Available Now in Downloadable
Book and CD Formats
Stories and Songs for Elders
Stories/Singalongs in Four Volumes...
a unique, innovative, affordable new set of materials designed to be used with elders by:
*professionals in eldercare settings
*family members & caregivers in home, eldercare, hospital settings
Available Soon in Downloadable Video Format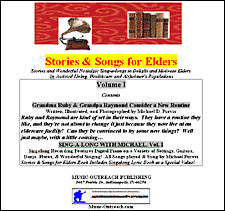 Stories and Songs for Elders...
is a new series of stories designed to stimulate, motivate, and delight elders!
Use it with individual elders or groups-
(Psst! And you can afford it, too!)
Stories and Songs for Elders is a great value...
Each volume includes a wonderful story written just for elders and a full-length, large print singalong featuring all the songs elders know and love!

Stories and Songs for Elders is a wonderful new tool...
for Activity Directors, Music and Recreational Therapists, family members and caregivers alike. This series has four volumes, each available with a recording and a book. The format for each volume includes a delightful story about elders learning to adjust and find joy in their eldercare setting, and a great largeprint singalong. Use it at coffee hour, for one on one visits, or make a brand new activity. No matter how you use it, its sure to be a success!
You can buy the books and recordings together or separately, One at a time, or as a series...
The book can be bought separately or in conjunction with the CD/Cassette. Buy the volumes one at a time or as a series, as your budget allows. The advantage of buying the recording is that if you wish, Michael can read the story to an individual elder or group of elders, plus lead the singalong for you (on the CD/Cassette). Each book is useful on its own, but the combination of the books and recordings is wonderful, since you will have both audio and visual stimulation for your residents.
Four Wonderful Stories...
Each with a nostalgic singalong featuring beautiful singing, piano, banjo, guitar & recorder