Have you found wonderful reminiscing sets of materials you'd love to use with your residents, but they are too expensive?
Introducing....
Memory Books/Memory Boxes
A Reminiscence series for the Elderly with Memorabilia, Discussions & Singalong
in Four Volumes
A unique, innovative, affordable new set of materials
designed to be used with elders by:
*professionals in eldercare settings
*family members & caregivers
in home, eldercare, hospital and hospice settings
Available Soon in Downloadable
Book, Video and CD Formats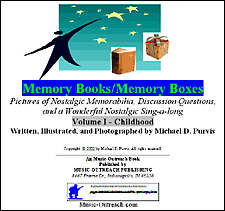 Memory Books/Memory Boxes
is the excellent, useful, flexible new reminiscing series you can actually afford!
And it even includes a full-length, large print singalong, featuring all the songs elders know and love!
Memory Books/Memory Boxes is a wonderful new tool...
for Activity Directors, Music and recreational Therapists, family members and caregivers alike. Now you can afford to purchase a wonderful set of materials which allow you to look at and discuss nostalgic, family-oriented memorabilia with elders individually or in a group. This series has four volumes, each available with a recording and a book. The format for each volume includes four memory-inducing topics, pictures and discussion questions for each of the four topics, and a wonderful singalong for you to use with elders (to really get their memories flowing!). Use it at coffee hour, for one on one visits, or make a brand new activity, which is sure to be a success!
And don't forget the added benefit of a singalong...
After you have had a delightful and stimulating discussion, then you can utilize the nostalgic singalong included with each volume As you know, any activity with music boost the appeal for your residents!
This series can make a month to a year's worth of activities for you, and save time in planning...
There are enough pictures, questions, and songs to have four different activities per volume. So, if you want to turn this book series into a weekly activity, you would have a month's worth of activities per volume, four months worth for the whole series. Or, you could use this series for a monthly activity, which would give you over a year's worth of activities if you buy the series.
You can buy the books and recordings together or separately, One at a time, or as a series...
The book can be bought separately or in conjunction with the CD/Cassette. Buy the volumes one at a time or as a series, as your budget allows. The advantage of buying the recording is that if you wish, Michael can lead the discussion and describe the pictures for you, plus lead the singalong for you (on the CD/Cassette). Each book is useful on its own, but the combination of the books and recordings is wonderful, since you will have both audio and visual stimulation for your residents.
Four Volumes...
Each with a nostalgic singalong featuring beautiful singing, piano, banjo, guitar & recorder

Please Click on the Volume Number Above to See More Details